In addition to fruit, we also make apple cider – the real thing! No preservatives, or anything – just plain cider. AND we make the best apple butter around. Again – just plain apple butter – no spices, no sugar, no preservatives! Our butter's reputation has spread to Texas and Florida.
Another of our products is apple syrup – again, no preservatives, no sugar, no spices. It can be used like maple syrup – on pancakes, waffles, and French toast. It has been used on oatmeal, ice cream, chicken, ham, and pork chops. A BBQ sauce using the syrup was developed by a restaurant in Michigan that has quite a following.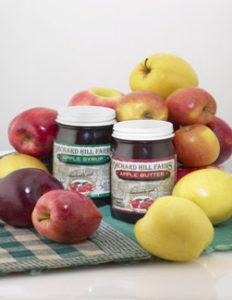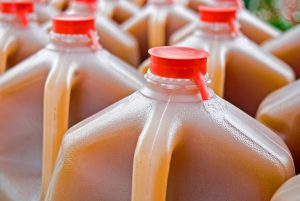 The next step in our apple progression was apple jelly – again, no preservatives, no sugar, no spices.
The final product using apples is the natural apple cider vinegar we make every year. At the end of the apple season, just before closing the market, we put up 100 plus gallons of cider for vinegar. It works for nine months turning into vinegar in time for the next apple season. We bottle the vinegar in pints, quarts, half gallons and gallons.
Apples need to be pollinated and so we have bees on the farm. In the spring during bloom we bring in additional bees for pollination, but we have a small apiary of our own. Honey harvest is sometime in September. Rick has taken an interest in bees in recent years and maintains our hives. We like spiced apple cider in the winter but hate the foam or scum from commercial mulling spices. So we developed our own apple spice. It contains our special blend of 6 spices, doesn't foam or form scum. Mom uses it in baking, pies and cakes. Sometimes she puts "a little to taste" in Cool Whip for a fresh fruit slice dip!