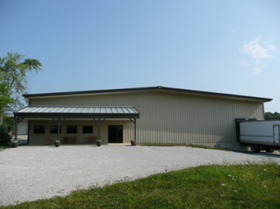 A corn and bean farm became an apple orchard when the Meyer family – parents Dick and Hertha with children Rick, Hertha and Kurt – planted the first 600 trees by hand. Some of them are still producing! Neighbors thought a cemetery was being developed upon seeing the rows of wood stakes on the land! All totaled, approximately 3000 trees were planted this way. Recent plantings have been made using tree planting equipment, making for a much easier and faster way to get them in the ground.
As the orchard began producing fruit, the original buildings were replaced with the exception of the original, timber-frame barn. It still stands with steel siding and serves as storage for our packaging and a lunch room.
With the trees maturing, a concrete block addition was made to the old barn in 1986 to handle a newer packing line. In 1987 a pond was built and had the highest earthen dam then in northeast Indiana. A cold storage building was added in 1991 along with a shipping room. Our small retail market began operating in the shipping room until 2008 when another steel building was added to accommodate a state-of-the-art computerized packing line. Part of this building was designated for the current retail farm market.
When Orchard Hill Farms was established in 1969, there were nine existing orchards in the Kendallville area. These were mostly retail operations, so Orchard Hill developed a wholesale market with area grocers. In 1995, when the last orchard of the original nine closed, Orchard Hill added their own farm market, offering 26 apple varieties.
Rick returned from Purdue and joined the business, purchasing a nearby farm and planting some of the newer apple varieties, including Honeycrisp. In 2012 daughter, Hertha, purchased another farm and in 2013 planted 750 cherry trees which is a pick-your-own operation.
Integrated Pest Management – IPM – is practiced on the farms. This includes the use of pheromone traps to determine pest thresholds. Beneficial insects and animals are encouraged. A healthy environment is maintained as evidenced by the abundant wildlife. Orchard Hill also conducts yearly food safety audits encompassing the orchard, the storage facility, and the packing house. We have attained the highest level of food safety certification available in our industry. Water quality is tested several times during the year.